Diversified
Capabilities
In our fully equipped, 32,000-sq-ft facility, we maintain a first-class design, manufacturing, assembly and inspection system, which allows us to offer complete turn-key manufacturing solutions.
Our facility is equipped with a best-in-class temperature-controlled inspection room provided with a Sheffield Endeavor 9.15.10. CMM, Kodak 2A Comparator, Certified 36" Playcheck Gauges, Inspection Micrometers, Inspection Bore Gauges, Inspection Verniers, Digital Height Gauges, and Certified Granite Surfaces.
We also utilize some of the latest Industry-specific software to facilitate our full-service design and manufacturing solutions. The software we use includes: VISUAL MFG (ERP), SolidWorks, AutoCAD, Lemoine, Mastercam, and EZCAM.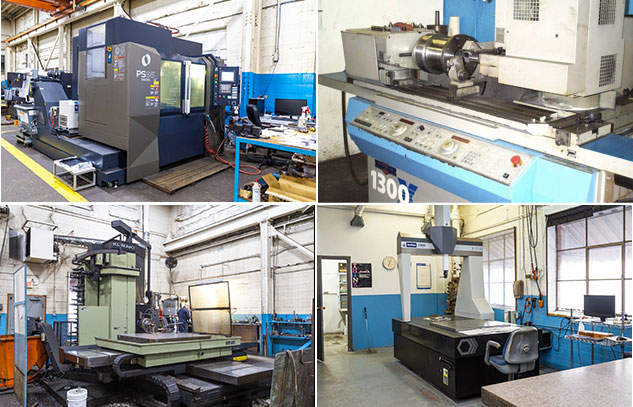 Our Machinery Includes
Makino A81 NX Horizontal Machining Center
Makino PS95 Vertical Machining Center
Kuraki KBT 11 CNC Boring Mill
Mazak VTC-41 Vertical Machining Center
O.K.K. MCV-820 Fanuc 11M Machining Center
DeVlieg Jig Mill 48"x48"
DeVlieg Jig Mill 60"x72"
Lucas Boring Mill 72"x120"
CSIP Precision Jig Bore
Hitachi Seiki Vertical
Jones & Shipman 1300X Microprocessor Controlled ID/OD Grinder
5 Universal Bridgeport Milling Machine's
OKUMA LC-20 CNC Lathe
Dean Smith & Grace 22" x 108" Lathe
Webster Bennet 60" Vertical Lathe
Doria Microstatic 32" Rotary Grinder
Jones & Shipman ID/OD Grinder
Cincinnati ID/OD Grinder
Moore Precision Hole Grinder
4 Jones & Shipman Surfaces Grinders
Snow Rail Grinder
TARUS Gundrill
OKUMA Genos L3000M CNC Mill/Turn Lathe
And Other various milling, drilling, turning and grinding machinery.